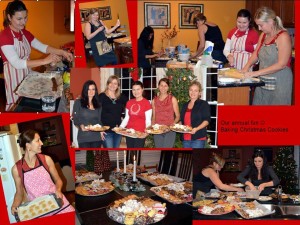 Na fotke je naše každoročné pečenie Vianočných  dobrôt. Tento rok sme upiekli naviac a vydražili sme 2 tácky   tradičných cukroviniek a peniažky poputujú do Guatemaly do tamojšej kresťanskej školy, ktora sa stará o tie najchudobnejsie deti.
Tu je jeden recept volá sa HEAT CRUNCH mám ho od Kim a tento rok sme ho pridali k našim cukrovinkam a ujal sa. Tu je recept na Slovensku mozete použit nejaké keksy namiesto saltine crackers.
HEATH CRUNCH
1 sleeve saltine crackers
2 sticks butter
1 12 oz. Package semi sweet chocolate chips
1 cup sugar
1 cup chopped pecans
Line a 10 x 13 cookie sheet with aluminum foil, extending 1 inch higher than bottom of pan.
Place crackers in single layer salt side up. Melt butter and add sugar. Cook 3 minutes, stirring
Constantly until bubbly. Pour over crackers spreading so all crackers are covered. Bake at 350 for
15 minutes. Remove from oven and sprinkle with chocolate chips while hot. Allow chocolate to soften and
spread evenly over crackers. Sprinklewith nuts and press into chocolate. Let cool completely in fridge (i leave
mineover night) when cold, turn candy out remove foil and break into pieces.
Další nový recept pridala Boži a roláda bola výborná takže recept možete nájsť na: http://dobruchut.azet.sk/recept/5192/fotorecept-nepecena-kokosova-rolada/