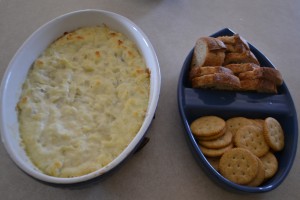 Thanks my friend Patti I gained another great recipe for my blog.
Artichokes Dip:
1 can artichoke hearts (smaller size artichokes)
1 block of cream cheese (8 oz.)
1 cup shredded parmesan cheese (shredded not grated)
Heat artichokes on stovetop and drain. Add them to bowl with cream cheese, sour cream, mayonnaise, and shredded parmesan cheese. Mix all together with fork. (If you prefer to make a smooth spread, you can put into food processor. I don't do this but recipe allows for it.)
 Put into ungreased baking dish. I use a round terra cotta one, but you could use a glass pie pan, square (8×8 or 9×9), or 7×11 baking dish. Baked on  350 degrees  for 30 minutes.
Artičoková pomazánka
 1 pohár sterilitovaných artičokov
1 ks  Philadelphia syr
1/2 pohára pochúťkovej smotany
1/2 pohára majonezy
Zohrejte artičok , vyžmýkajte z neho vodu a pridajte ostatné ingrediencie. Dajte do malej ohňovzdornej misy a vložte do rozohriatej rúry na 180 C – 30 min. Podávajte teplú pomazánku s chlebom alebo  čipsami.