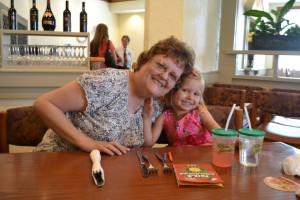 Two months after my Father's death, we were today in another funeral. Jamie's mom on Wednesday went to the  arms of our Lord. She was great mom and Grandmama and will be missed here greatly. Funeral was beautiful and  touching.  Four preachers were talking about her life and how she touched others. Her small town was awesome supportive community for her and Papa Frick. They all pull together and help them in these difficult  years when she battled  with her disease. God is awesome he always send great people to help.
After i lost these two wonderful people I realized that life is too short to loose time with unimportant  things. What is all matter on this Earth is how much we love and care about each other. How much we want to serve our God and His Kingdom, follow Him and make His Will. How we can change, improve or just make happy some other lives around us. Because that  is  what we take with us after our own  death.  Cars, money, houses, clothes all this "important" things stay on Earth we will not take it anywhere and sooner or later they will become unimportant how they were from beginning…..I wish you blessed week
MOJA SVOKRA
Práve sme sa vrátili z pohrebu mojej drahej svokry. Pred dvoma mesiacmi sme pochovali môjho drahého tatinka, takže žiaľ a bolesť bola o to intezívnejśia na pohrebe.  Bol to krásny obrad, na ktorom hovorili 4 kňazi, ktorí mali česť ju poznať a pomáhať jej prekonať ťažké obdobie, ktoré prežívala v jej chorobe.  Bola to milá osôbka, ktorá vždy pomohla a milovala svoje vnúčatá.  Ako to povedal nádherne jeden  z nich, " Neprehrala svoj boj ale vyhrala lístok do neba", kde už nie je žiadna bolesť. Bola obklopená veľmi podporujúcou komunitou ľudí z jej dedinky, kde žila. Títo ľudia boli  úžasní. Robili zbierky na transplantáciu pečeňe, ktorá ju čakala a bola veľmi finančne náročná, navštevovali ju v nemocnici kde strávila posledné roky viac ako doma, nosili jej jedlo, kosili trávu…..čokoľvek potrebovala. Tu som si uvedomila akí dokážu byť  ľudia úžasní a ľudskí.
Život na tejto Zemi je veľmi krátky a preto si ho netreba zapĺňať nepodstatnými vecami.  Na konci života sa nás nikto neopýta akým autom sme jazdili alebo v akom dome sme bývali ale ako sme milovali a starali sa o druhých.  Boh je láska a stvoril nás pre lásku. Veď on nás tak veľmi miloval, že poslal svojho jednorodeného Syna, aby za nás zomrel, aby sme mali život večný.Prajem Vám požehnaný týždeň