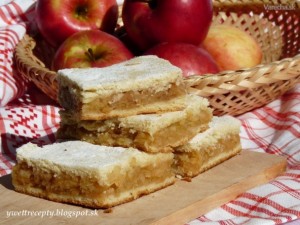 Vyskúšaný a overerný recept na jablčník môžete nájsť TU
Apple pie recipe:
3 and 1/5 cup of flour
1 and 1/2 cup of powder sugar
1 full teaspoon of baking powder
2 sticks and 2 table spoons butter
2-3 table spoon of milk
2 eggs
Filling:
2 pounds of apples shredded
1 tbs of vanilla
sugar according your taste
All steps with pictures you can find on link above.
Sift flour add butter, baking powder, sugar, milk and mix together. It will be so crumble at the beginning. If you need more liquid use milk. Divided dough in two pieces. One bigger roll and put on baking sheet . Then put apples and cover with rest of the dough. You can either roll or shredded the rest of the dough and put on top. Bake for on 375-400 till is start to brown on top apr. 20 min. You can put powder sifted sugar on top.