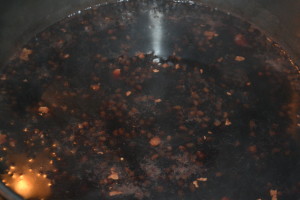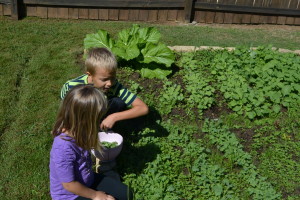 This is what is cooking today in our kitchen – Homemade Elderberry sirup. Wellnessmom has tons of great homemade recipe. Next on my list is make homade soap bars. On the other picture kids  pick  up  lettuce, kale and collar greens for lunch.
Našla som vyborny recept na domáci sirup z bazovych bobulí. V USA sú tieto bobuľky veľmi populárne pridávajú sa do rôznych zmesí. Tak som si objednala a dnes robíme sirup. Už sa teším, keď  si ich  raz  na Slovensku nazbieram a usuším.Na druhom obrázku sú deti a zbieraju salatové, kelové a kapustné lístky na obed. V Charlotte máme zelené listy skoro až do Decembra.
Na sirup potrebujete:
3.5 pohára vody
2 lyžice zázvoru čerstvý alebo prášok
½ malej lyžice klinčeka
1 pohár medu
Všetko dajte hlbokej panvice okrem medu. Privedťe do bodu varu a potom stíšte a varte 45 min dokiaľ sa zmes  nezmenší na polovičku. Preceďte,  nechajte vychladnúť a pridajte med. Premiešajte a uschovajte v sklenenom pohári v chladničke. Podávajte deťom pol alebo celú malú lyžičku dospelý  pol alebo celú veľkú lyžicu denne. Ak máte chripku alebo nádchu dávku podávajte každé 3-4 hodiny.